Stephen Cotton, ITF GenSec: Remember the dead, fight for the living!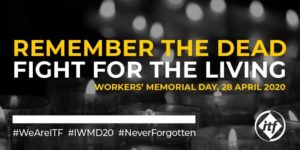 Every worker has the right go home safe from work, every shift, every day.
Right now, in the midst of the Covid-19 pandemic, the right to a safe workplace has never been more important.
Tragically many transport workers have lost their lives to Covid-19 globally, after contracting the virus while heroically working on the frontlines through the pandemic providing vital services for our communities.
Tomorrow on International Workers' Memorial Day, we will pay respect to those workers who have lost their lives or have been injured at work, and recognise the toll that the pandemic is having on the mental health of workers globally.
No worker should have to take excessive risk or die on the job.
It is a time to come together behind the theme of #IWMD20 to demand that governments and employers "stop the pandemic" at work and protect transport workers with adequate health and safety standards.
Here's some ways that you can get involved:
1. Remember the dead, fight for the living
We call on all transport workers to share your story or the story of a loved one on social media and use the hashtags #IWMD20 and #WeAreITF.
2. Remember those who have lost their lives
Pay tribute to any of your fallen sisters, brothers and friends by adding them to the ITF transport workers memorial wall.
3. Stay connected and organise for the future
Continue to stand up and fight for health and safety of train drivers, seafarers, cabin crew, taxi drivers, cleaners, conductors, dockers, ticket sellers and all other transport workers globally.
The battle against Covid-19 will not be won without transport workers, they are the lifeblood of the global economy keeping the world moving, vital to successfully responding to the challenge of Covid-19.
We will continue to fight for their protection, today, tomorrow and everyday.
In solidarity,
Stephen Cotton
ITF General Secretary